Tracking Code is an identification code to track Travel Bugs and Geocoins on the Geocaching.com website.
Description
Edit
A tracking code, also referred to as a Tracking Number, is a unique code stamped on a metal plate or a coin. After you activate the Trackable you send it out on its journey for other geocachers to find.  A tracking code is different than a Reference Code (see Etiquette below).
Trackable Etiquette
Edit
Use the Golden Rule when you find a Trackable. Most owners would rather see their Trackable do a lot of travelling, so try not to hold on to one for too long. If you plan on holding onto the bug for more than 2 weeks, it is considered courteous to email the owner, letting them know of your intentions. 
It is considered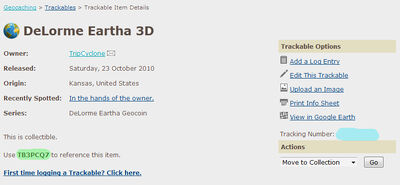 bad form to post the tracking number online in any media, which can result in
Groundspeak
locking a trackable due to
Armchair logging
.  Many geocachers advocate editing a photo of a trackable by blurring or painting over any visible tracking codes before the photo is posted online.
One way to reference a Trackable without risk of revealing the tracking code is to use the item's Reference Code. 
You can find this code on the item's page above the "Current Goal".
More Information
Edit
Ad blocker interference detected!
Wikia is a free-to-use site that makes money from advertising. We have a modified experience for viewers using ad blockers

Wikia is not accessible if you've made further modifications. Remove the custom ad blocker rule(s) and the page will load as expected.