For information about the activity of geocaching, see Geocaching.
Geocaching.com is the worlds largest geocaching website. Web Developer Jeremy Irish started this website in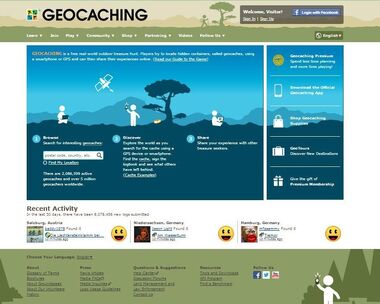 September of 2000. This site provided tutorials for getting started on geocaching, hiding a geocache, etc. Currently Groundspeak owns Geocaching.com. To access the coordinates on Geocaching.com a Free Membership is required. However, there are some PMO Geocaches that require a Premium Membership to find.  A premium membership costs $30.00 for one year. As of May, 2013 there are over 2 Million geocaches on their website and over 5 million users.
Ad blocker interference detected!
Wikia is a free-to-use site that makes money from advertising. We have a modified experience for viewers using ad blockers

Wikia is not accessible if you've made further modifications. Remove the custom ad blocker rule(s) and the page will load as expected.