The GeoTriad refers to a specific set of three geocache sites within the Pacific Northwest. Two are located in and around Seattle, WA, while one is located just outside of Portland, OR.
Description
Edit
Attempting to complete the GeoTriad is a popular goal of geocachers traveling to the Seattle/Portland area. The three geocaches would be considered part of Geocaching history by many. They include:
There is a Challenge Cache dedicated to completing all three GeoTriad caches[1]
References
Edit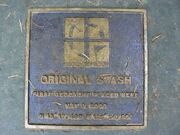 Ad blocker interference detected!
Wikia is a free-to-use site that makes money from advertising. We have a modified experience for viewers using ad blockers

Wikia is not accessible if you've made further modifications. Remove the custom ad blocker rule(s) and the page will load as expected.