The Fizzy Challenge is a type of Challenge Cache.
Description
Edit
The first Fizzy Challenge was created by Kealia to honor the contributions of FizzyMagic.  The challenge involves finding a cache for every possible Difficulty and Terrain (or D/T) combination.  There are a total of 81 possible combinations.
Specific rules may vary based on the user who sets up the challenge.  Typical rules include:
One cache per D/T combination
Only physical caches are allowed
Liars Caches are not allowed.
All prior finds are allowed
Current Fizzy Challenge Caches
Edit
Completed Fizzy Grid
Edit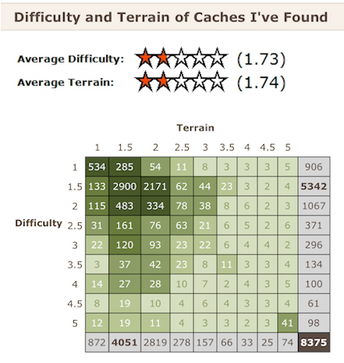 Ad blocker interference detected!
Wikia is a free-to-use site that makes money from advertising. We have a modified experience for viewers using ad blockers

Wikia is not accessible if you've made further modifications. Remove the custom ad blocker rule(s) and the page will load as expected.