The First Geocache was hidden on May 3rd of 2000 in Oregon, United States by Dave Ulmer. Dave placed a 5 gallon bucket that contained Delorme Topo USA software, videos, books, food, money, and a slingshot! The geocache is not there anymore but Groundspeak has put a Plaque in honor of the orginal geocache. The GC code for the plaque is GCGV0P. How ever the Orginal Cache placed by Dave Ulmer is still on the website. The GC code for the orginal "stash cache' is GCF. Can you Believe that just one letter in the GC Code. Below is the orginal email Dave Ulmer sent out on his internet group.
Well, I did it, created the first stash hunt stash and here are the coordinates:
N 45 17.460
W122 24.800
Lots of goodies for the finders. Look for a black plastic bucket
buried most of the way in the ground. Take some stuff, leave
some stuff! Record it all in the log book. Have Fun!
Stash contians: Delorme Topo USA software, videos, books, food,
money, and a slingshot!
* Sent from RemarQ http://www.remarq.com The Internet's Discussion Network *
The fastest and easiest way to search and participate in Usenet - Free!
Read the Full Board Here .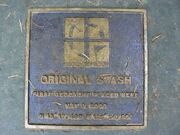 Ad blocker interference detected!
Wikia is a free-to-use site that makes money from advertising. We have a modified experience for viewers using ad blockers

Wikia is not accessible if you've made further modifications. Remove the custom ad blocker rule(s) and the page will load as expected.